Enduring the channeling for Sounds attached to various routes facilitating the 9 kweek daya ... it came to me'us that the "KAmuth" sound was firmly pointing to the DôMEdaya - day 28 and 0 too ...
So this gave the questioning for the 8th seal to be added to the origin 7 (excl. the BIOVOID meditational opening for each kweek which is always on SirDaya).
Focussing on the original RINRI meditation and its script for the interconnecting prayer , it occurred to me the task was to connect North and South and SOuth and North - each in one of two halfyears ...
Seeing the 7 SEALS attached to Padmasambhava's Fusall Hymnes SILIO expressed the CALL from N to S and S to N ...
So this gave the 8th seal which is just 180 degrees rotated SILIO into "SILIA" ... which gave the idea to connect it to the HARA fysical center and thereby fullfill the prayers outcome: another understanding from the chakral labyrinth ...
"SILIAUM" is the SOUND facilitating each kweek on its 9th daya ... each 3rd kweek portals into Daya on Moon Experience ...
(SILIA is the last SEAL image in each row below)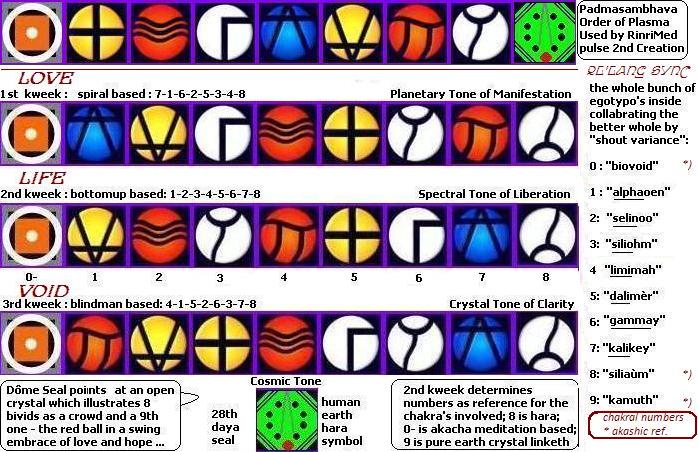 Lets look for the initial routes given by the map provided:
Kweek1: -LIMI-SILIA-VOID- : : -4-8-0- :: love & spiral
Kweek2: -ALPHA-SILIA-VOID- : : -7-8-0- :: live & order ("L'ord...ear")
Kweek3: -KALI-SILIA-DoME- : : -7-8-9- :: void & blind
Mark how DôME follows SILIA in 3rd kweek; nice to see the 789 as "PHOENIX" dial ...
this all in line with
this partnears site
... (a tipping point)
...
(more to follow in this context)