Traveling Time can be stimulated by addressing 13Moon calendar in a Whole Planetary Weaving.
That is why this formula [ 3x (1+3+1+3+1) +1] addresses its spices as logical, orderly and consistent ..
and is also interconnecting greater cycles into its womb of life ... and womb is both matrix and spiral fusing.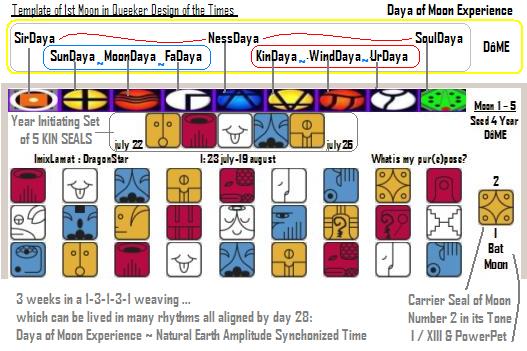 One might also say
logical reflects the sensoric realm and left brain/right chest quality of a human being
orderly reflects the telepathic realm and right brain/left chest quality (heart) of a human being
consistent reflects the catalytic realm and weaving ratio womb quality (whole body) of a human being
That womb including its both dual however interconnected realms is wired to the bigger picture by the navelstring ... the +1 particle in the evolution of spacetime ...
The Year Character
Is symbolized by its masculine carrier ... here day 5 of the 1st Moon "Seed 4" ... similar as in DreamSpell Calender.
The Moon Character
Is symbolized by both its first Daya as well the 28th (new zero: 0) ... here Sun 13 as starting Date and Star 2 as its closure ...
Sun 13 Spell reads:
Yellow Cosmic Sun
Green Central Castle of Enchantment
Earth family- Polar
Clan- Fire
Galactic Activation Portal

I endure in order to enlighten
Transcending life
I seal the matrix of universal fire
With the cosmic tone of presence
I am guided by the power of flowering
I am a galactic activation portal
Enter me
Star 2 Spell reads:
Yellow Lunar Star
Red Eastern Castle of Turning
Earth family- Signal
Clan- Blood

I polarize in order to beautify
Stabilizing art
I seal the store of elegance
With the lunar tone of challenge
I am guided by the power of universal fire
This Very Daya Spell = Wind 6 reads:
White Rythmic Wind
Yellow Southern Castle of Giving
Earth family- Core
Clan- Fire

I organize in order to communicate
Balancing breath
I seal the input of spirit
With the rythmic tone of equality
I am guided by my own power doubled
Out of the "initial complex" Readings we see how the Blood Clan Harmonized STAR 4 is ignited this very day by the Fire Clan WIND 6 ... and also by its preceding yellow mate Fire Clan SUN 13 ...
13 affirms transcending "what we as people have to overcome ... in this womb of spacetime ur-soup"
6 affirms equalizing "what was disturbed by mixed up connections"
4 affirms forming "the planetary amplitude for its justified harmonizing gulf / womb"
namaste*Y S'ace ~ Bolon Ik / Ix waved Mobilizer : White Solar Wind (DreamSpellProgram) :: Yellow Crystal Sun (LongWave MayanAncientCount)